Choosing the right credit card is easy when you look at the choices you have at CSCU. All CSCU Visa Credit Cards feature these must-have benefits:
Low rates
NO annual fees
NO hidden fees or penalty payment increases
Zero liability for unauthorized use
Cash advances at thousands of ATMs worldwide
Verified by Visa® – For added security when shopping online
An overdraft protection option tied to your CSCU Checking Account
24/7 account access via Online Central and Call-24
Choose the card that's right for you!
Visa Classic – With credit lines up to $5,000
Visa Gold – With credit lines up to $15,000 and Gold-level perks
Visa Secured – Secured Visa requires 150% of the amount of the line of credit to be pledged and maintained on deposit.
Apply now!
One of the many benefits of a CSCU Checking Account is a Visa Check Card.
Pay like a credit card with funds drawn from your CSCU Checking Account.
Use it as an ATM card and make surcharge-FREE withdrawals at over 28,000 CO-OP® ATMs nationwide, thousands of MoneyPass ATMs and CSCU ATMs.
Make up to 3 FREE ATM withdrawals at any non-CSCU ATM network per month.
No CSCU point-of-sale transaction fees at gas stations, grocery stores, restaurants or other merchants that accept Visa or ATM cards.
NO finance charges or annual fees!
Verified by Visa – For added security when shopping online.
Give the gift that always fits and is never the wrong size or color! A Visa Gift Card from CSCU is:
Flexible – The recipient can use the card at restaurants, movie theatres, most retailers and the list goes on...
Convenient – You don't have to go from store to store searching for the perfect gift.
Secure – Register the gift card and eliminate worries if it's lost or stolen.
You can purchase Visa Gift Cards in denominations of $25 to $1,000 at any CSCU branch or
online today
!
To obtain balance information on a VISA Gift Card purchased at Central State Credit Union please call
(866) 244-5360.
Verified by Visa is a FREE, simple-to-use service that confirms your identity with an extra password when you make an online transaction. It only takes a few minutes to activate the Verified by Visa feature on both your CSCU Visa debit and credit cards.
You can activate this security feature NOW!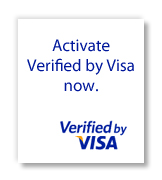 The CSCU ATM Card gives you worldwide ATM access, including surcharge-FREE transactions at all
CSCU ATMs
and 28,000
CO-OP® ATMS
and thousands of
MoneyPass ATMs
nationwide. With a CSCU ATM Card, you will enjoy:
3 FREE ATM transactions per month at non-CSCU network ATMs
Unlimited surcharge-FREE transactions at CSCU, CO-OP and MoneyPass ATMs
Worldwide ATM/POS access
No point-of-sale fees from CSCU